Product Details
| | |
| --- | --- |
| Product name: | 2 Pole 1 way Light Switch |
| Model No.: | W62/A/L3 |
| Series: | W62 |
| product or component type | Push-button |
| device presentation | Mechanism |
| device mounting | Flush |
| number of modules | 1 module |
| switch function | 2-pole 1-way |
| actuator | Rocker |
| Rated current: | 16A 250V~ |
| Finishing | Sanded |
| Colour | White, other option: Black |
| connections - terminals | Screw clamp terminal |
| Standard: | Italian Standard |
| Warranty: | 10 years |
| Certificate: | CE, CB |
| Material: | Fire-resistant PC |
| Price term: | FOB |
| Payment term: | TT, LC |
| MOQ: | 3000PCS |
Product Advantages
1. Modular design, which can be combined according to the needs of the user.
2. Ultra-long product line, products suitable for Southeast Asia, South America, Europe and other regions
3. Products with lights, no lights, with fluorescent particles, no fluorescent particles, according to the demand can meet
4. Large wiring space, strong wiring, wiring screws will not come out of the product
5. Use a fire-resistant PC plastic to provide you a safety environment
6. Has CB and CE certificate to meet your demand.
Other Switch Modular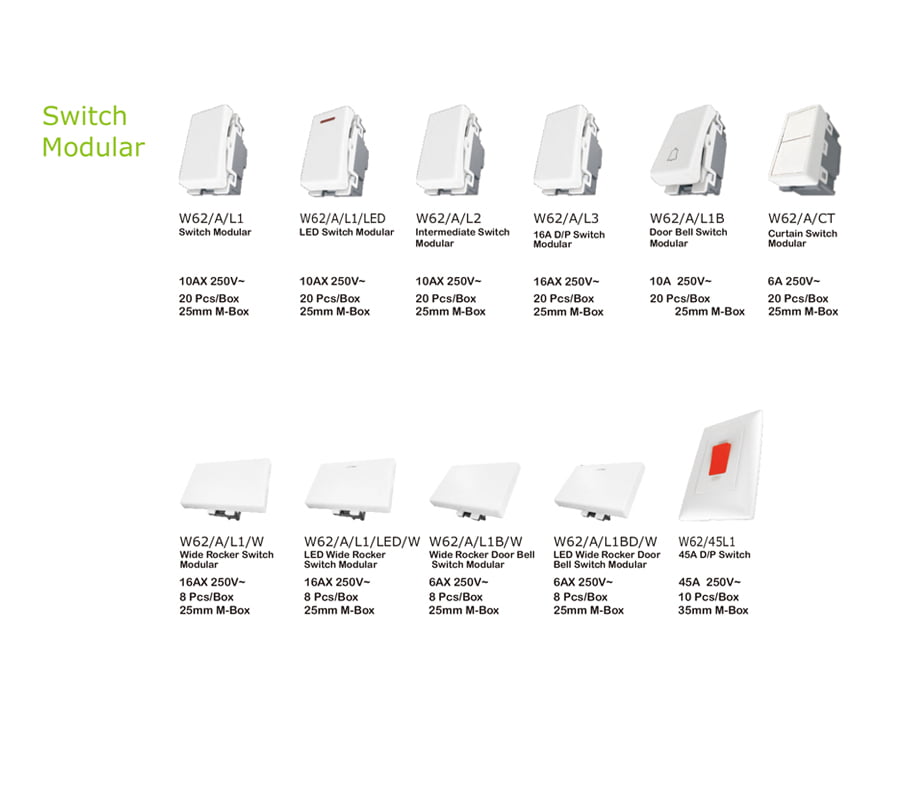 RFQ
1, How Does a Double pole ( 2 pole) Light switch work?
A switch pole refers to the number of seperate circuits that the switch controls. A single pole switch controls just one circuit. A doublt pole switch controls two seperate circuits.
2, Where to use Double pole ( 2 pole) Light switch?
It's usually used in high-power electrical appliances, such as water heaters, air conditioners etc.
Package Design