LED dimmer switches offer several benefits that make them a popular choice for homeowners and businesses. Whether for residential or commercial use, LED dimmer switches are a valuable addition to any lighting system.
Here are some key advantages:
- Energy Efficiency
- Customizable Lighting
- Extended Lifespan
- Improved Comfort and Well-being
- Design and Aesthetic Appeal
- Dimming Presets and Automation
- Noise Reduction
- Compatibility with Smart Lighting
- Cost Saving
- Easy Installation and Retrofitting
Incorporating LED dimmer switches into your lighting setup can significantly enhance the functionality and aesthetics of your space while providing you with greater control over your lighting environment.
500W LED Dimmer Switch - White
500W LED Dimmer Switch British Standard is one of the simple but stylish wiring device products in the W86 series that features a very thin panel and a clean appearance. Round corners and soft lines with smooth rotary button fully shows its aesthetic design.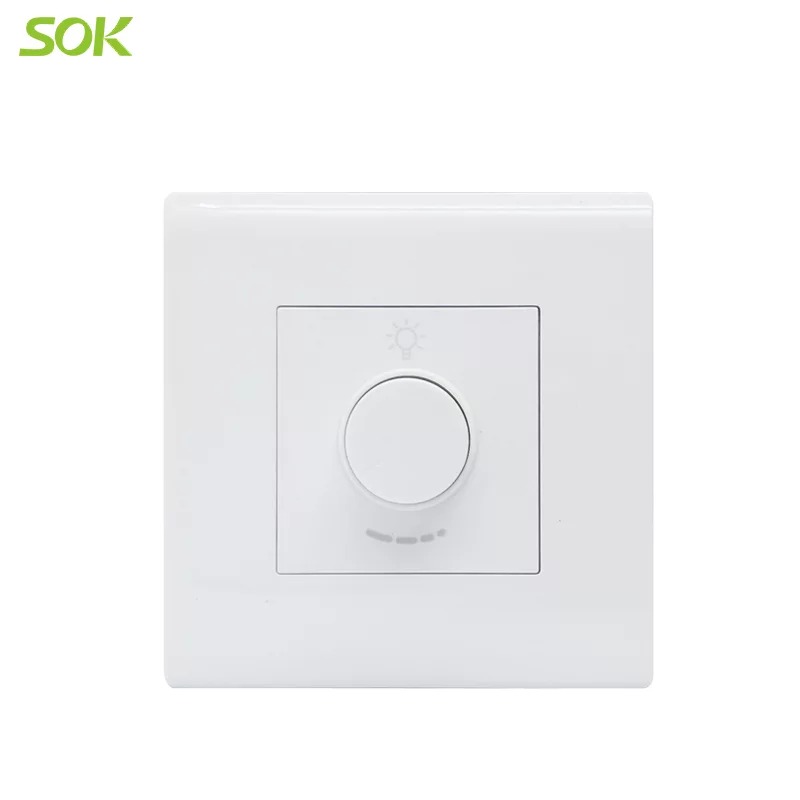 700W LED Dimmer Switch - White
700W LED Dimmer Switch features a very slim plate which is only 4mm, and a clean appearance with a smooth rotary button fully shows its aesthetic design. W86 series applies high polymer PC with glass fiber material to support such a thin profile.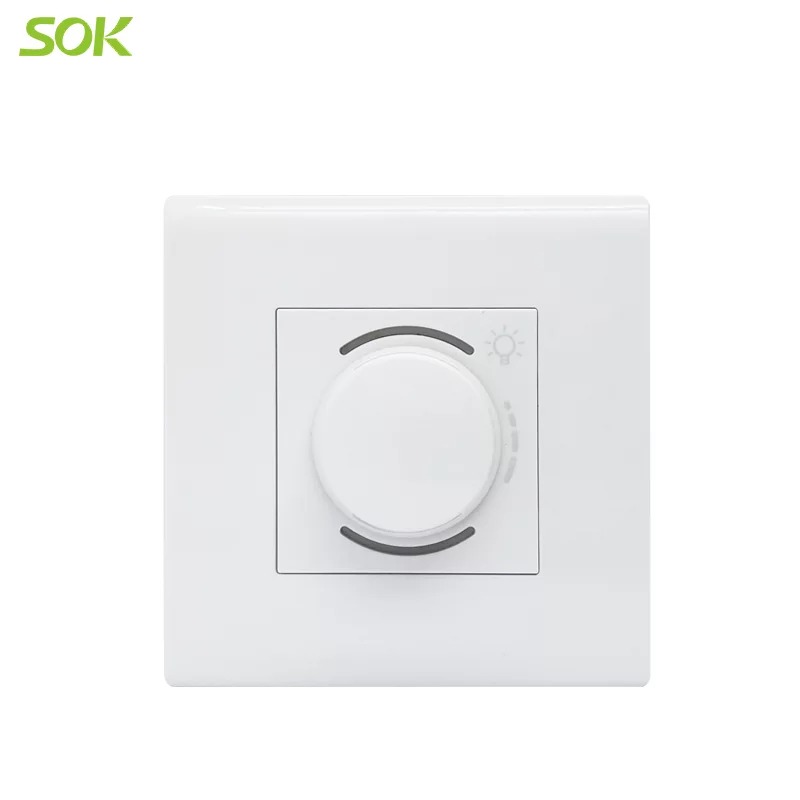 Product Introduction of LED Dimmer Switch
1. Based on a 4mm panel and a concealed-screws design, this dimmer switch is aesthetically pleasing and easy for cleaning.
2. The surface can be customized in different stylish painting finishes (also can do varnish finish) and injection colors such as:
- Elegant Sliver (painting)
- Rose Gold (painting)
- Champagne (painting)
- Dark Gray (painting)
- Yellow (painting or injection)
- Brown (painting or injection)
- Black (injection or painting)
- Cream/Beige (injection)
3. Features a quicker and easier installation and disassembly.
4. Applies world-renowned brand SCR with high reliability, and high polymer PC with glass fiber material which has the function of fire-resistance, fading-resistance, and impact-resistance on chassis to support the super thin cover.
5. Provide a wide adjusting range and comfortable feeling, and brightness changes smoothly.
6. Simple but stylish design can be matched with all styles of decoration at any place like gallery, conference hall, house, studio, canteen, bar, office, etc.
7. Every batch of products will be sent by our quality control teams to our own CNAS-certified laboratory to do routine tests like aging tests to ensure quality. Also, quality inspections will do during each production progress.
Recommended Lights For 500W LED Dimmer
Brand
Type of Light
Reference Information
Power
OSRAM
Dimmable LED Bulb
AC220-240V/50Hz/60Hz 29mA
6W
OPPLE
Dimmable LED Bulb
AC220-240V/50Hz/60Hz 2700K
9.5W
Dimmable LED Bulb
AC220-240V/50Hz/60Hz 2700K
7W
PHILIPS
Dimmable LED Bulb
AC220-240V/50Hz/60Hz 63mA
11W
Dimmable LED Bulb
AC220-240V/50Hz/60Hz 45mA
8.5W
Warm Tips
1. This product must be installed by a qualified electrician. Do not disassemble the cooling fin and back-housing.
2. Always operate the dimmer according to the technical data provided.
3. This product is only for adjusting the lighting. Do not use it to adjust other electronic products, otherwise, it might bring damage.
4. Risk of death from electric shock. Although the device is turned off there might be full voltage at the output. Always turn the device status voltage free before starting with work.
5. Dimming socket outlets is prohibited. The risk of overloading and connecting unsuitable dimmers is too high.
6. It's a normal phenomenon that slight heat will be emitted from the product when it's
7. Do not over-twist the knob, otherwise, it may damage the product.
8. When using the dimmer with a different brand/model of dimmable LED light, the light may be flashing when approaching to the minimum value.
9. When multi-loads in parallel connection, the same brand, and model of loads are recommended. But please make sure the total power must not exceed the rated power.
10. Connected dimmers may be damaged if you connect a combination of loads (inductive and capacitive) at the same time.
Can You Do Custom-Made? Price?
Yes, glossy switch buttons and surrounds can be customized to another PC color like red, black, cream, or gray or painting color like pearl white/yellow, champagne, Black, Brown, Gray, Silver... Also, painting color can do a varnish finish. The price will be negotiated and affordable if the quantity is appreciable. And don't let the price affect your pursuit of the ideal atmosphere.
Do Products Have a Warranty?
Yes, SOK offers a 10-year worry-free guarantee for all types of switched universal socket outlets, data socket outlets, double pole switches, 2 years for LED dimmer switches...Our efficient sales team and professional technical teams are ready to support your needs.
How Do You Assure the Quality?
During the whole production process, our quality control team will strictly inspect each process, from material selection, material incoming, and injection parts selection, to metal parts punching, to ensure quality and punctual delivery. We also ensure the quality during producing process(line installation, semi-automatic installation, automatic installation), packing, storing, and loading.
What Kind of Service Sok Can Provide?
Presale: Having 20-year exporting experience, we will provide you with very effective communication, devoting 100% enthusiasm and patience.
During: We will share your pictures to inform the latest production progress, trace the delivery timely, and help you arrange affordable shipment.
Aftersale: We will provide documents and tracking after shipment and inform you of new products timely. And if any problems or questions after sales, please don't hesitate to contact us and we will give you a satisfactory response. Contact us by TEL: 86-757-25333127/6117/6192/6907 or E-MAIL: export01@jinli.com