Television broadcasting has evolved significantly over the years, offering viewers a wide range of options to access their favorite shows and channels. Two common methods of receiving TV signals are through satellite TV sockets and ordinary TV sockets. While both serve the purpose of delivering television content, there are notable differences in terms of their interfaces, transmission frequencies, and physical structures.
Different Interface
One noticeable difference between satellite TV sockets and ordinary TV sockets lies in their interfaces.
A satellite TV socket typically features a threaded design, allowing for a secure and tight connection. This threaded interface ensures reliable and stable contact between the socket and the corresponding cable.
On the other hand, ordinary TV sockets have a straight interface, allowing various types of cables to be inserted for different wiring configurations.
Different Transmission Frequency Ranges
The transmission frequency range differs between satellite TV sockets and ordinary TV sockets.
Satellite TV sockets are designed to handle higher transmission frequencies, typically around 860MHz. This higher frequency range is necessary to receive and process signals transmitted by satellites in space.
In contrast, ordinary TV sockets are engineered for frequencies below 450MHz, which are typically used for terrestrial broadcasting signals received through traditional antennas. The difference in the frequency range is a crucial factor to consider when selecting the appropriate socket for the desired TV signal source.
Differences in Physical Structure
The physical structures of satellite TV sockets and ordinary TV sockets display distinctive characteristics. Satellite TV sockets require close and reliable contact to ensure proper signal transmission and reception. To achieve this, satellite TV sockets often feature a thicker shielding layer, which helps minimize interference from external factors and enhances signal quality. The robust physical structure of satellite TV sockets ensures that the signal remains stable, even in environments with potential signal disruptions.
On the other hand, ordinary TV sockets have one or more ports where different types of cables can be inserted. This versatility allows for various wiring configurations, such as connecting multiple TVs or devices to a single antenna. The physical structure of ordinary TV sockets is designed to accommodate different connection requirements, making them suitable for a range of setups within a home or building.
As a supplemental and necessary wiring device, this TV Satellite Socket Outlet is the one you're looking for. Smooth lines, soft corners, glossy surface, and pure white color, all are aesthetically pleasing.
- Series: W50 Series
- Model No.: W50/1TVS
- Color: White
- Size: 86X86 mm
- Quality Assurance:10 years
- Standard: British
- Certificates: CB, CE, SASO, GCC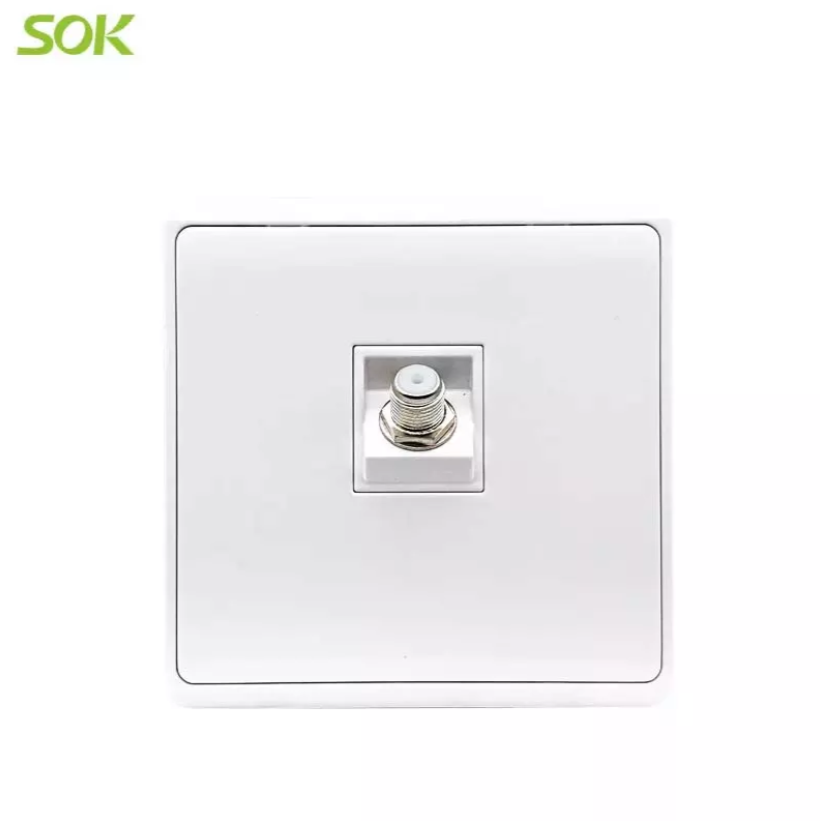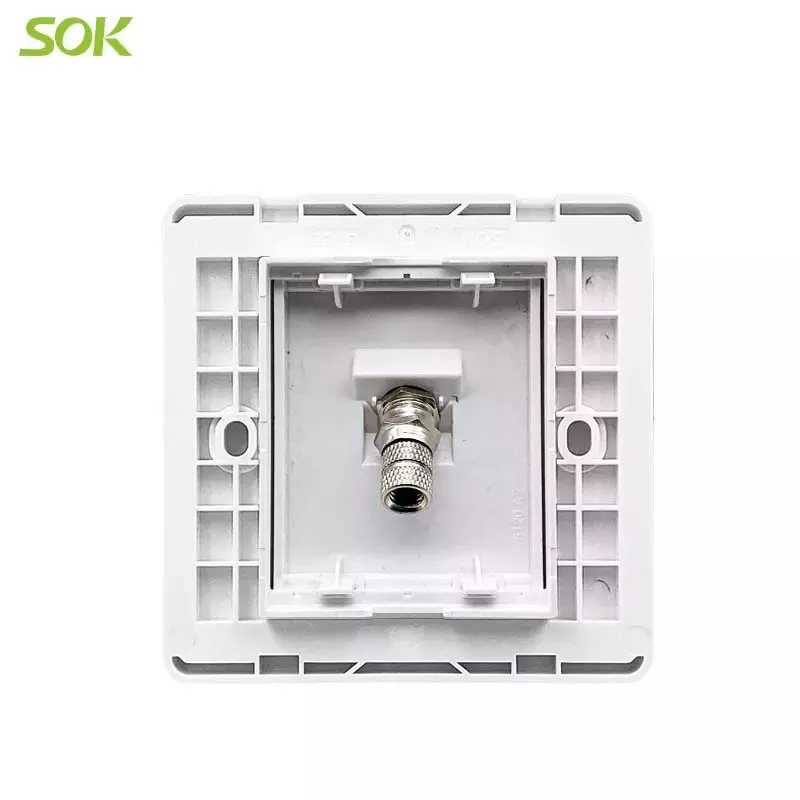 Product Introduction of the 1 Gang TV Satellite Socket Outlet - White 45-degree
1. Features an elegant and clean appearance with a concealed-screw design. Also, it's durable and easier to clean.
2. 45 degrees pattern is more convenient for inserting.
3. Offers an easier and faster connection and installation.
4. Selects high polymer PC material on the cover and shell frame, which is resistant to impact, heating, discoloration, scratches, and fading.
5. TV satellite modular has passed ROHS & REACH certificates and also passed 24-hour salt spray tests.
6. The glossy cover panel and matt insert can be changed in other painting finishes and injection colors like beige, orange, gray, black, blue, green, etc.
7. 2 gang TV outlets, LAN and TEL outlets available.
8. Ideal for conference rooms, commercial buildings, comfortable hotels, and residential places.
Conclusion
While satellite TV sockets feature a threaded interface, a higher transmission frequency range, and a robust physical structure for reliable contact and signal reception, ordinary TV sockets have a straight interface, support lower frequencies, and offer versatility for different wiring configurations. By considering these differences, users can ensure a proper connection and enjoy optimal television viewing experiences.
If you're looking for a reliable satellite TV socket outlet, SOK's TV Satellite Socket Outlet may be an excellent choice. In either case, for selection or maintenance guidance, we welcome you to contact us to help you with your decision-making process.